It's that time of the year when the FIFA Virus goes around the world taking the best players away from most clubs to represent their national team. Real Salt Lake is not a stranger to this illness.
After all of the national coaches around the world had submitted their list of players, Real Salt Lake found out that 5 of their now starting 11 will have their moment to shine with their national team.
Captain Kyle Beckerman, goalkeeper Nick Rimando and right back Tony Beltran were called to represent the United States National Team. Striker, and top scorer, Alvaro Saborio, was called to represent Costa Rica National Team, and Abdoulie Mansally was also called to represent Gambia.
While all this is great news for Real Salt Lake because it is showing the amazing job Jason Kreis and his coaching staff are doing with the players day-by-day, it is also bad news because now RSL have 5 more players in the list of unavailable. Since MLS does not stop playing like a lot of leagues around the world, this will have a big impact on the squad this weekend against FC Dallas.
For the 2013 season, RSL decided to field a full 30-man roster for the first time ever knowing that some key players would most likely be called up during the FIFA dates to represent their country.
In addition, Real Salt Lake still have some players on the injury list – Javier Morales, Chris Wingert have been out for a while.  Rich Balchan and David Viana have seen recent injuries and are probably questionable. And Carlos Salcedo was added to that list after suffering a concussion during Saturday's reserve match. In addition, Khari Stephenson was subbed out during the Rocky Mountain Cup match last Saturday with a knee injury. Nat Borchers returned to action in Saturday's reserve match, but there are questions about whether or not he's fully match fit.
This leaves a lot of young players with the opportunity to shine and step up for the team.Let's look at the possible starting 11 Real Salt Lake could have for Saturday match against FC Dallas.
It's easy to figure out which goalkeeper is on board to take Rimando's spot.  Josh Saunders is an excellent goalkeeper and 2 time champion of the MLS Cup with LA Galaxy.  You cannot ask for a better sub.
Along the back line if Borchers can play – he played 60 minutes in the reserve match on Saturday - he will be part of the starting 11 and Schuler would move to the left back position – a position he has played in the past.That would push Palmer to the right back position and Kwame would partner up with Nat in the center of the defense.
If Borchers isn't available for the starting 11, you could see Enzo Martinez line up at right back. He ended up playing there in the reserve match on Saturday and has played that position many times during pre-season and reserve games last year.
Another option would be to see Cole Grossman line up at fullback. Although primarily a central midfielder, the youngster could stand in at right back in a pinch.
In the diamond you wouldn't see anything you have not seen before. Yordany Alvarez has played many games in the defensive midfield position when Kyle Beckerman has been absent due to FIFA dates or suspensions. This is the least of RSL's concerns as he does a good job and is a solid back up. Around him you are likely to see Sebastian Velasquez, Ned Grabavoy and Luis Gil.
At the top is one of the main questions in a team that has scored only 3 goals this season, with the scorer of those goals absent with the FIFA Virus.
Robbie Findley is likely in the starting 11 and he is the one with all the pressure to command this team to success in Dallas. Hopefully he can finally get that goal that we all have been waiting for, and once he scores that goal there will be many more to come.  But who will he partner with?
Devon Sandoval is to me the chosen one. He is tall, strong, and knows where to be inside the 18. He is a hard worker and Kreis has used him in all 3 games as a sub and as we know Jason likes the striker to have those qualities.  But is he fit for 90 minutes?
That leaves you with 2 other young forwards that could be used during the game. In the past 3 games Real Salt Lake Coach Jason Kreis has subbed Plata on for Findley. I would think he will do the same on Saturday.  Since Findley has more experience than Sandoval the logical sub would be for Sandoval and then RSL would finish play with 2 speedy forwards.
Will we see Olmes Garcia? The youngster showed well with a key assist in Saturday's reserve match. I doubt he'll see time, but I think he may be able to be on the bench as the 4th striker that RSL is accustomed to carrying.
Other players you may see on the 18 player trip to Dallas could include Jeff Attinella, Aaron Maund, Cole Grossman, and Rich Balchan.
Here is my expected Starting XI: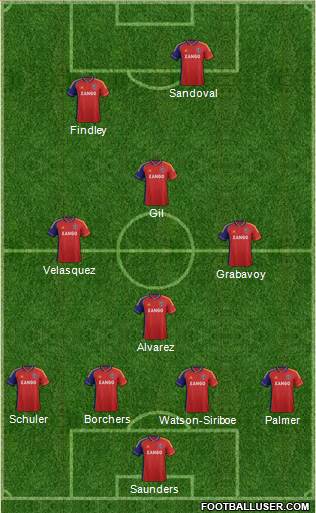 Subs: Jeff Attinella, Aaron Maund, Enzo Martinez, Cole Grossman, John Stertzer, Olmes Garcia and Joao Plata
We'll have to wait to see Jason Kreis's selections. Let's hope the youngsters he chooses do well, and let's cheer on the 5 RSL'ers representing their country.
@Chiquipelaez
2 Responses to "RSL Youngsters: Time To Shine in Dallas"